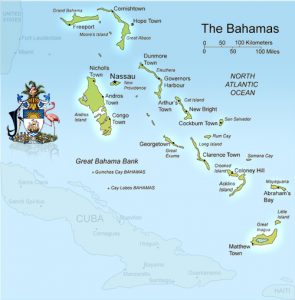 The Bahamas is an archipelago of some 700 islands and more than 2200 cays scattered across more than 100,000 square miles of water in the Western Atlantic Ocean.
Geographically, our total area is comprised of about 95% water and our very name is derived from the Spanish words 'baja' and 'mar', meaning shallow seas. Consequently, the sea that envelopes our islands enhances our biodiversity, informs our culture and supports our economy. Our population of approximately 371,000 people lives on 17 main islands with the majority of persons taking up residence on New Providence, where the capital city of Nassau is located.
Although our office is located on the island of New Providence, our activities and network of partners extend throughout the country.
Click here for a more detailed map and information about The Bahamas.
Did You Know that The Bahamas . . .
Is home to 35% of the coral reefs in the wider Caribbean region?
Has the 3rd longest fringing-barrier reef in the world – the Andros Island Barrier Reef?
Is referred to as the shark diving capital of the world?
Has the world's highest concentration of blue holes?
Has the second deepest known blue hole on Long Island?
Has one of the most extensive underwater cave systems in the world on the island of Grand Bahama?
Is one of few places in the world where unique communities of blue-green algae, called stromatolites, have been discovered?
---
Here are just a few things that we think make our 'Blue Bahamas' beautiful. We invite you to dive in!